How to Tip your Florida Keys Wedding Vendors
First, to start off on How to Tip your Wedding Vendors, tipping is not mandatory, it is supposed to be an expression of gratitude and a thank you for their good service. 
–  Gratuity is something that is often forgotten to be placed in the couples wedding budget so make sure to add that in so there are No surprises later with your wedding budget.
– Make sure to check ALL contracts,  gratuity might already be included in the bill, for How to Tip your Wedding Vendors such as – Caterer's, Bartenders, transportation. 
If a business owner gave you a nice discount, provided an extra service free of charge, or just really impressed you with their services, it is nice to give them something a little extra as to show your appreciation and gratitude. 
A gift card or maybe a small gift is always thoughtful as well but should not be expected. 
-How to Tip your Wedding Vendors AFTER the service they provided.  I think it is more appropriate because as a Florida Keys Wedding Coordinator myself,  I have had couples hand me cards to pass out before the wedding but some of those vendors, either showed up late or did not provide the service that was contracted.. And of course the couple was not to happy to pass along that gratuity they expected to give. 
– If you do not have a day of coordinator you can always place someone in charge to hand out gratuities at the end of the night like one of the mom's – father's – maid of honor, or personally give them out yourself.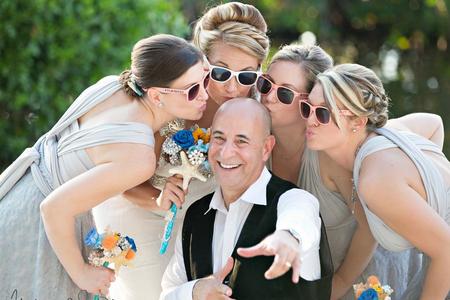 How to Tip your Wedding Vendors - Gratuity Guide
Wedding Coordinator – 50+ or Nice Gift – No tip is necessary but if you feel like they worked their butt off for you, you can give a gift or tip at the end of the wedding with a big hug 😉 
Hair & Make-up – 10-20 % Just like if you were going to the Salon – 
Officiants – If it is your Pastor / Family Member / Friend that is doing this as a free service. A Nice gift is a appropriate, maybe treat them to a nice dinner after the wedding. As for a vendor $25 – $75 is more common but not necessary. 
Florist – Not Necessary but if you absolutely LOVED them and they were personally there to make sure everything looked as you designed, consider mailing them a nice gift. 
DJ's – Owners of the company or not, I feel like with my experience this wedding vendor always receives a tip and the biggest tip! $50 – $200 – Why? Well because they are in charge of the mood of the night – If everyone is dancing and having a blast, the couples always end up placing a little extra in the envelope because they just danced their shoes off.
Ceremony music or band members : $25.00 – $50.00 per member
Photo / Video – If they own their own business not necessary – If they just made you smile through out the whole night – A nice gift or $50 – $100
Baker – Not Necessary, most of the time you do not even see the baker. They deliver to the venue and drop it off, unless it is a private owned baker and they take their time to deliver themselves and set it up, place flowers or whatever other extra decor you had for your wedding cake. Nice Gift or $25.00 – $50.00
Catering Manager / Staff – Be sure to check your contract as most of the time gratuity is included, if not for the catering manager – $50 – $100 and each server $25 
Bartenders – These guys should always be taking care of – Some companies do not allow the bartenders to place tip jars at a wedding, Why? because they are serving free drinks and guests might not have any cash on them to give.. $50 – $100 per bartender is appropriate