Florida Keys Wedding DJ's & MC's
Our Top Rated Wedding Pros
Questions to Ask your Wedding DJ & MC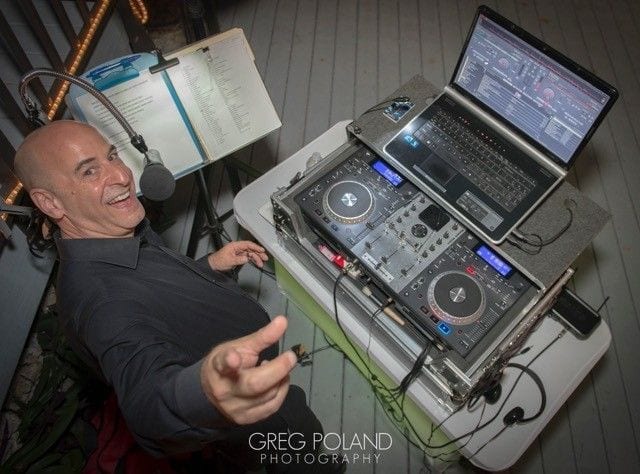 Questions to ask your Wedding DJ
Music can make or break a party, which means you don't want to just hire any DJ
First things First 
Know the differaece between a Club DJ and a Wedding DJ 
If your looking for a trandtional wedding such as Grand Introduction, tradnational dances, cake cutting, grand exit then you will need a Wedding DJ/MC, if your wedding does not have much of a time line and you just want some dance music, club style DJ will work, but my reccomdation will always be to go with someone that is xperainced in the wedding indursty. 
DJ's must know the time line in detail, they are conductor of events. This means coordinating with the coordintor, bride, groom, staff anyone involved with your event . DJ's make the annoucements and direct the guest's on what is next so not just playing great music but also having professional MC skills is a must. Make sure your DJ is experinced in weddings there are many great DJ's out there but someone to really inhence your group are hard to come by. 
# 1 – Ask the DJ if he/she has ever worked at your wedding venue. 
Weddings in the keys are often at the same location but the wedding venues are large so tipically your DJ will need two kinds of set-up. One for Ceremony, usually this one can also be used for the cocktail hour and then one for the reception. If your DJ has worked at the wedding venue before then they are already formiliar with the layout and will know what to prepare for.
# 2 – When does the planning of music begin. 
Most Wedding DJ companies have a online site that you can fill out, but a phone call or a one on one chat is the best way to express your ideas for the night. Big DJ companies unfornatlty you do not know who your DJ will be until a couple days before so there really is not a persional relationship. Some couples that is totally ok and some want more of a personally experiance to insure there day is a knock out
# 3 – How would you decirbe your style. 
Some DJ's cater to the crowd some DJ's cater to their liking. Ask what their style is and what will they do to get your shy guest's on the dance floor  
# 4 – Are Lights included in your package. 
Your DJ might come with all kinds of fun lighting or might have upgrade options 
# 5 – Do you have wedding insurance, proper licences, most of the wedding venues in the keys require vendor insurance. and want proof of it. 
# 6 – At any point of your planning ask your DJ about song sueggtions, they are being hired to help you and they know music best
Hot tips from one of are top Wedding DJ's
By Russ Ginsberg 
#1 Song List's. If you give your DJ a list of songs, keep it limited. Just give him 15 or 20 of your MUST play songs. You don't want to have your wedding DJ just pushing buttons. Hopefully you have hired a DJ that knows how to read a crowd and keep the dance floor rockin.  By all means you can tell him what you don't like, but let him use his creativity to keep your party hopping through out the night.
If you do give your DJ a list, make sure that you have taken into consideration the wide variety of guests, ages, and musical tastes. Although it's your wedding, you do want to make sure that all of your guests have an opportunity to get out on the dance floor. Remember, Uncle Bob and Grandma Rose might want something a little older than your wedding party is used to.  A good wedding DJ will know how to fit that in and when to do it. A good DJ will take care of the older guests at the beginning since they tire out first and save the booty music for later on.

#2  Stay aware from obscure music. After years of experience, guests are more likely to get out on the dance floor if they are familiar with the songs. 

#3 Hire a Wedding DJ. Try to stay away from a club DJ. Clubs are great but a wedding is a totally different scene and it's important that your wedding DJ is good on the mic. Your Grand Introductions and other announcements at a wedding should be done with excitement and enthusiasm. Club DJs don't normally have that mic etiquette you would seek at a wedding.

 Lastly, meet or speak with your DJ before hiring them. Make sure you feel that connection or as I call it, that ying and yang, that warm and fuzzy feeling. I always try to establish a warm connection with my brides and grooms. I want to know them and almost become friends with them. Your DJ is a major part of your wedding and they can make it or break it. Make sure you feel comfortable with your DJ with no reservations. You should be able to have complete trust in your DJ.