Florida Keys Wedding Officiants
Our Top Rated Wedding Pros
Search and Browse some of the best Wedding Officiants located in the Florida Keys. From Key Largo, Islamoda, Marathon, & Key West. 
I Do With Yvette
Florida Keys Wedding Officiant
James Enright
Florida Keys Wedding Officiant
Advertise With Us
Costs Nothing To Have Your Business Listed With Us
Details about hiring your Wedding Officiant
There was a time, not too long ago, when the celebrant/clergy/officiant performing and legalizing a ceremony was contacted simultaneously, or not too long after the date and venue were selected.  What happened to those good old days? Since everything old is new again (or RETRO, I should say), then perhaps that trend will return. Maybe in some markets, it never changed, but in todays age,   indication here in The Florida Keys, the shift was definitely towards booking much closer to the wedding date.
Top 6 Reasons on When to Hire your Wedding Officiant Early
Couples are overwhelmed with the other decisions and just don't get to it.
Couples are encouraged to focus on venue, food, photographer first.
In destination weddings, there are all the travel, mail and communication issues, uncertainties and research to address.
Because a wedding celebrant is such a personal and intimate element of the wedding date, the sheer importance of the choice makes the task more difficult
Couples feel that if they book the officiant early – they will have to address the ceremony early as well.
Lastly, they just don't know where to start.
Learn More About this topic in Our Journal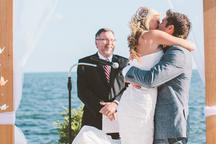 Reasons to Hire your Florida Keys Wedding Officiant Early