Wedding Planners and Coordinators
Search and Browse some of the best Wedding Planners and Coordinators located in the Florida Keys
Our Top Rated Wedding Pros
Salt Wife Weddings
Wedding Planners & Coordinators in the Florida Keys
Wishes to Weddings
Wedding Planners & Coordinators
Blue Water Weddings
Wedding Planners & Coordinators
Frond & Feather Events
Wedding Planners & Coordinators
Florida Keys Planning and Events
Florida Keys Day of Coordinator
DETAILS ABOUT HIRING WEDDING PLANNERS AND COORDINATORS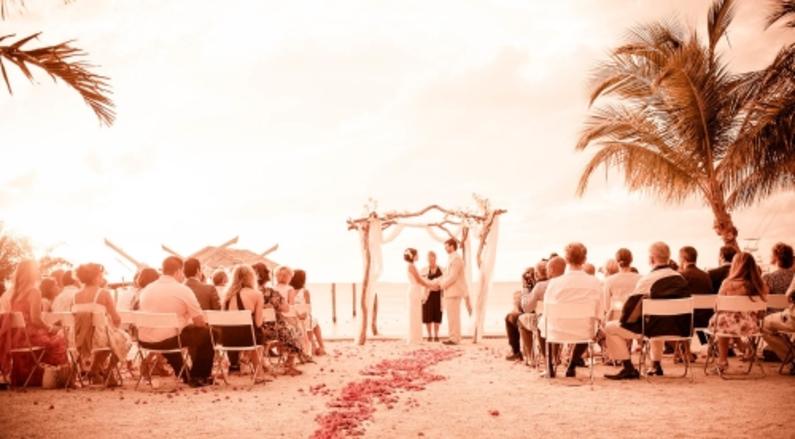 Are you Considering Hiring a Wedding Planner Or a Coordinator?
Wedding Planners and Coordinators in the Florida Keys. This is one vendor you will not regret. Day of Planners make everything happen on your wedding day. With he/she running the show and serving as the point of contact for all your wedding vendors, you and your family can enjoy your wedding day to the fullest. You should not have to worry about when your wedding vendors arrive, setting up any of your personal décor, passing out checks, or wondering who is going to direct your guests on what happens next.
 A Florida Keys Wedding Planner should handle all of this for you. You have spent all this money on your Dream Wedding, now is the time to make sure it runs smooth and how you imagined it. A wedding Planner in the upper Keys starts at $500 – $1,500 for a Day of Coordinator and then moves up depending on the level of service.  
 This service should definitely be factored in your budget. Why? Time and time again we hear about so many weddings not being able to use all of their ideas that they brought. Wedding Sparklers go un-sparked, Favors are not being passed out, and countless activities being skipped or missed all because time is flying and things are going in any direction without any guidance. 
If a family member or friend offers to become your planner, great, but it is not the same thing as a wedding professional. After 8 Years of being a Key Largo Wedding Coordinator, I still learn something new at every wedding. Yes some brides can get away with out having a day of coordinator if they do not have much happening in their time line, or there are not many wedding vendors involved. If this sounds like this might be your wedding then feel free to Contact Us and we can help create a time line for you to give to your friend or family member to manage or we can give you a better idea if a professional wedding planner is needed .
Wedding Planners and Coordinators Categories
Full Coordination Wedding Package
A Full Wedding Coordination Package is usually the most expensive package. The Wedding Planner will take care of all the details for your wedding and will be your only point of contact until it is time for your vendors to speak with you directly. When booking a full coordination package from a wedding planner, be sure that you can develop a rapport and relationship with that person. I have had couples book me 2 years in advance and we end up developing a friendship being in communication so much with each other between emails and phone calls. 
Things to Ask your Wedding Planners and Coordinators
Before you sign the contract, Talk to the coordinator via phone to ensure you both feel the same way about your ideas.
Can you help us stay in budget? Ask if she can create a basic budget sheet based on your ideas to make sure your budget is some what outlined on what she can do for you in finding the right vendors – 
Is the Rehearsal of the wedding party included? ideally, you want to have a rehearsal the day before so everyone is on the same page and knows their roles on the wedding day, your coordinator should be there to run things and to answer questions.
When will you arrive and how long do you stay ? 
Do you set-up my DIY projects? does she have a assistant to help set-up so the time line/vendors are still properly managed 
Do you put away all of my DIY projects or do I need to plan for someone else to do so?
Have her send you a outline of what your responsibilities are and what her responsibilities are so you do not think she is getting a project done and she thinks you are. 
Partial Coordination Wedding Package
A Partial Coordination package is when the planner is not involved in the planning process but you can email her anytime you have a questions or need advice then she is there the day of to manage your event. The Florida Keys Wedding Center is pretty much your partial wedding planner except we will not be there the day of your wedding, but you can contact us anytime you like for questions and advice

 

Ask the same questions as above –

 
Day of Coordination Wedding Package
There are two different kinds of Day of Coordinators – Month of and Day of. Make sure you know which one you are booking with, Month of Coordinators will come in a month before and begin to place on the pieces to the puzzle together, while day of planners normally just come in two weeks before and begin to figure things out. Some Day of Planners only show up the day of. My advice is to spend the extra cash and hire a coordinator that comes a least two weeks before, if your coordinator is only showing up the day of to be a face then you will still be doing work that you did not plan for. 
Things to Ask your Wedding Planners and Coordinators
When do we schedule a time to speak about the details of our wedding 
Is the wedding party rehearsal included 
Do you create a time line for my vendors to go by 
Do you contact my vendors a week before to go over the details and confirm their arrival times
Do you set-up my DIY projects? does she have a assistant to help set-up so the time line/vendors are still properly managed
When will you arrive and how long do you stay