Welcome Ladies and Gentleman for the most commonly asked question. What to do when it rains for your outdoor wedding? This is never the first or second question, this question usually pops up at the end of giving a tour or doing an initial talk with the venue or wedding planner, BUT, it is always asked and brought up about.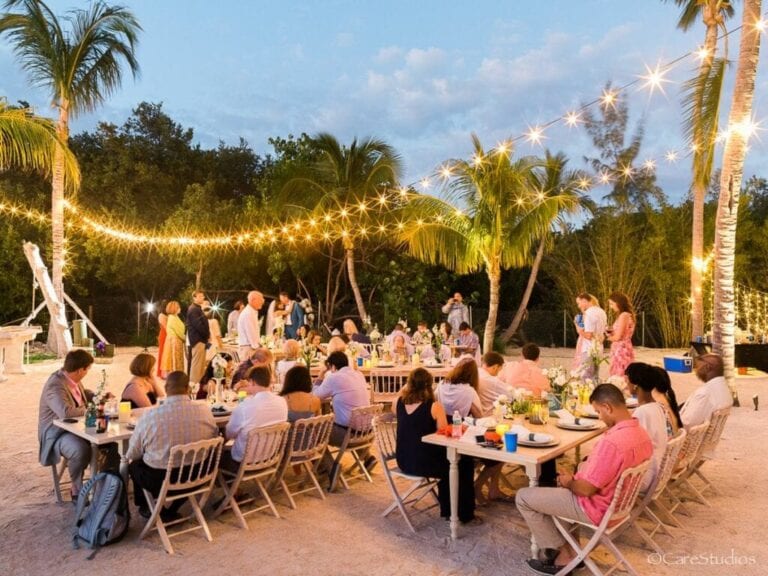 Sure, Everyone plans for perfect weather. While most topics write and prepare us for how to plan for an outdoor wedding, very few talk about what to do when it actually starts raining the day of your wedding. 
A great feeling to rest assure in, is most of our rain is not torrential downpours, but more of a quick spurt of rain that usually lasts for less than an hour (Most Times) 
BE PREPARED AND ALWAYS HAVE A PLAN B!!!
Almost 75% of the Available Wedding Venues in the Florida Keys will be outdoor space only. And some of the most affordable wedding venues will have no indoor space. If you are reading this before your wedding day, we should still look at preventative measures. 
You should always have two plans know matter what the outcome is. 
Here is a list of the top 6 things to consider and think about when planning for an outdoor wedding or what to do if it's starting to rain on your wedding day. 
#6 Consider Renting a Tent Before the Wedding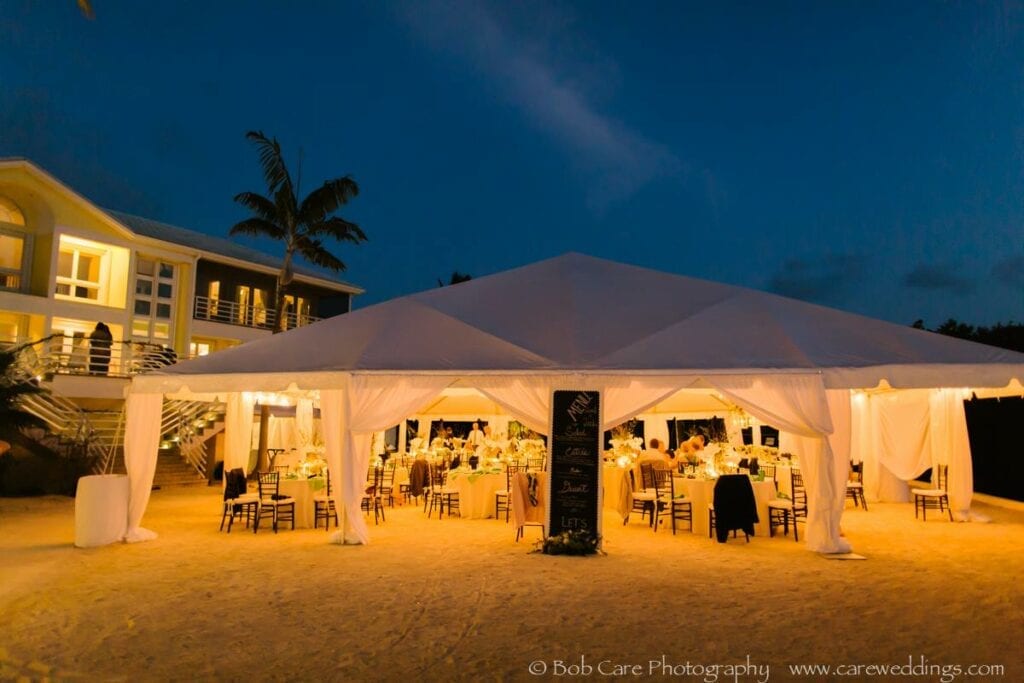 While Hindsight is always 20/20, there are preventative measures we can take to ensure our wedding goes off without a hitch. If you chose or are considering choosing an outdoor wedding venue. A tent should definitely be in your budget. It doesn't have to be a lavish clear top tent with gold chandeliers, but consider a nice tent with draping and some lighting. A tent, in the event it doesn't rain, still provides a nice look when you are on the property arriving for your wedding and shade coverage . You can check out the costs of renting a tent here.
During a storm that might bring heavy rain, use sidewalls for your tent, do not sidewall the entire tent, instead, use a U Shape or L for your sidewalls to the direction of the rain this will offer a nice air flow inside the tent. 
With today's radar technology, seeing if and when it might rain has gotten better than ever. If your heart is set for a outdoor ceremony, pushing ceremony times earlier or back depending on radar might be your best bet. If your ceremony time is at 5pm, and showers look like they might hit at 5:10pm, but all of your guests are there at 4:30pm, then run with it. Be ready and as soon as your guest arrive start the ceremony. On the flip side, if your ceremony is at 5pm and showers look like 5:10pm, Then direct your guests to shelter and offer drinks until the rain passes. Everyone is understanding with days like this and your guest's will not mind a drink in their hand while they wait. If there is know chance of neither the above and you have no indoor back up space then using that back up tent will come in handy. Your Day of Coordintor will direct guests and help you make this decesions 
#4 Put the Bar, DJ, and Dance Floor Close Together
In your Plan B execution, we should look at putting these three ingredients together. Your guests are still looking to have fun, they are still going to dance and make the most of this special day. As long as you have a smile on your face I promise rain is not going to stop the fun and drinks. The bar, DJ and Dance floor should be in the same tent area, Put them all close together to avoid having your guests travel far distances in the rain from each direction in the event that it rains. 
Place your Wedding DJ in the corner of your tent therefore if it does not rain then all the DJ needs to do is point his/her speakers out and then you still have the option of dancing under the stars. 
#3 Extra Touches you can Purchase
We do have some local stores on every Island that someone can run by and puchase some extra umberllas for your guest's. You can also ask your wedding venue, most have extra in hand or in the hotel rooms that they offer to guest's. You can also purchase in advance clear umbrellas which will make for great photos. 
#2 Listen to Your Wedding Planner
Chances are, your Florida Keys wedding planner is no stranger to rain at a wedding. If they have been doing this long enough, they will know what to do, where to do it, and have already prepared for this scenario. 
#1 Have Fun and Enjoy the Moment
It is ok to be upset, no one wishes for rain. But if it happens don't let it ruin your special day, Breathe in and smile, have some drinks and dance the night away !! Every Wedding that we have been a part of, when it rained, turned out to be a really fun event. Don't show your guests that you are stressed in anyway. Have fun and enjoy your wedding. Rain or Shine. 
Other Articles You May Enjoy!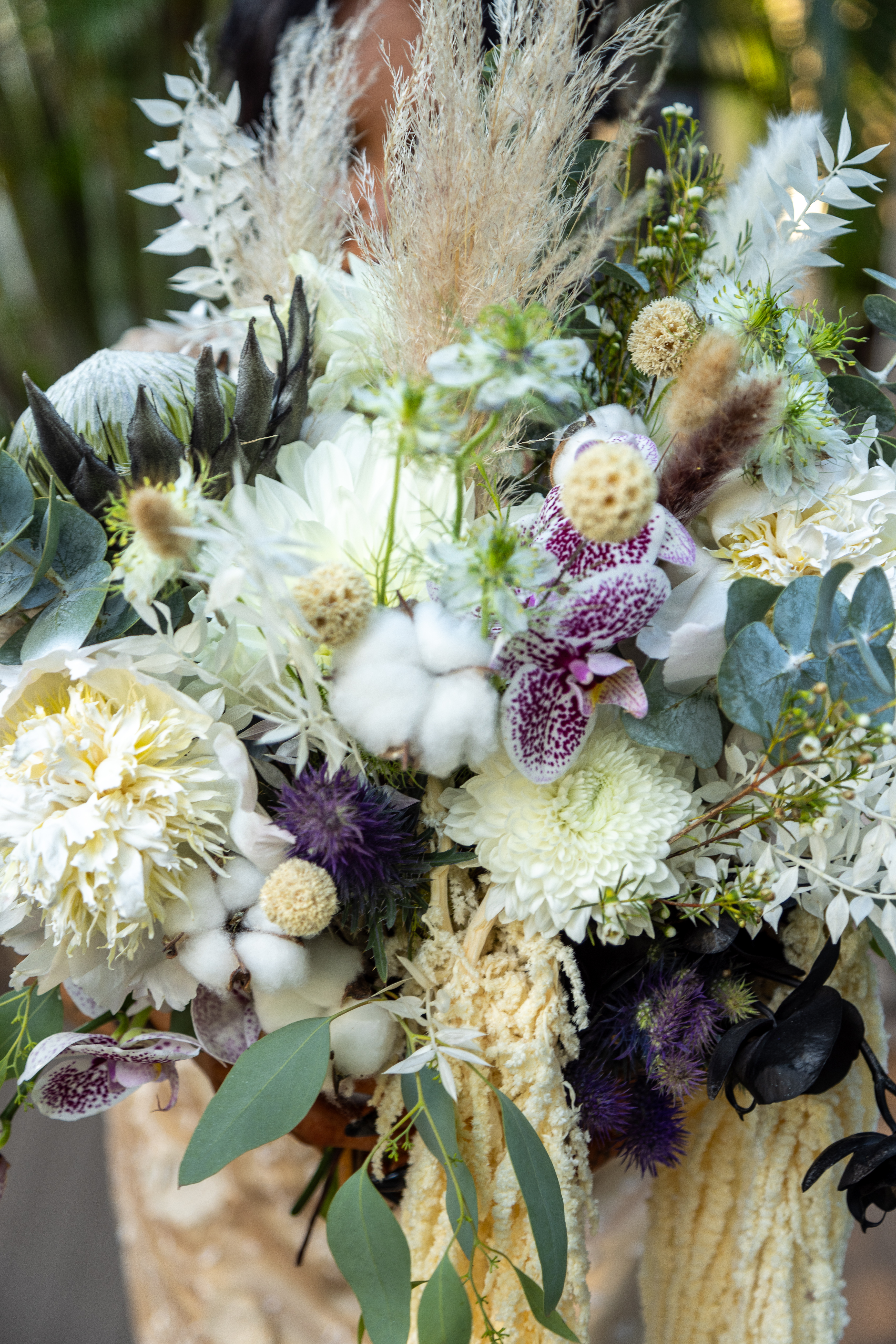 Tips and Advice Which style are you incorperating? Facebook Twitter Youtube WordPress It's 2023, when thinking weddings what exactly are we imagining? Are we rustic vibes? Or maybe
Read More »