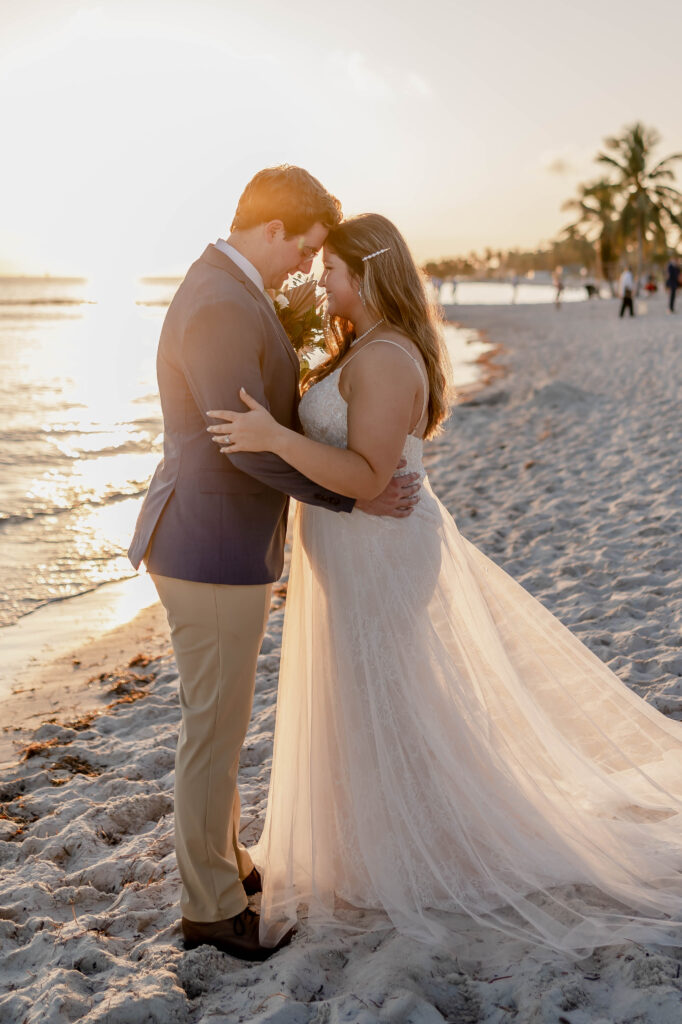 Neina and Parker had their beautiful Smathers Beach Driftwood Package ceremony surrounded by love from family & friends! 
The Driftwood Ceremony package includes everything you need for a beautiful beach ceremony, including a photographer & officiant. 
Included in this package is:
Ceremony Officiant
Filing of Marriage License
1 Hour Photography
Digital Downloads for Photos
Bamboo, Birch Wood, Driftwood, Darkwood, Circle
White Fabric and Seasonal Flowers
Bridal Bouquet (Seasonal Flowers) 
Groom's Boutonniere
White Padded, Bamboo, or Chiavari chairs 
Pick a Side Not a Seat Decor Sign, Unplugged wedding sign, or Welcome to our Wedding 
Bamboo Aisle Runner or Fresh Roses Scattered down the aisle 
Ceremony Aisle Decor (Starfish, Flowers, or Lanterns) 
Sand Ceremony Kit or Wine box ceremony or Fisherman's Knot  or Handfasting 
Water Station with Farmhouse Table  (Card Box, Lobster Trap, or Mini Mailbox, Clear Gold) 
Once booked, you will work with one of our fabulous wedding package planners on all of the details of your ceremony. On the day of your ceremony, everything will be set up and broke down & all you have to do is marry the love of your life! 
Contact us today to get your Smathers Beach Driftwood Ceremony!