October 8th, 2022 in Key Largo, Florida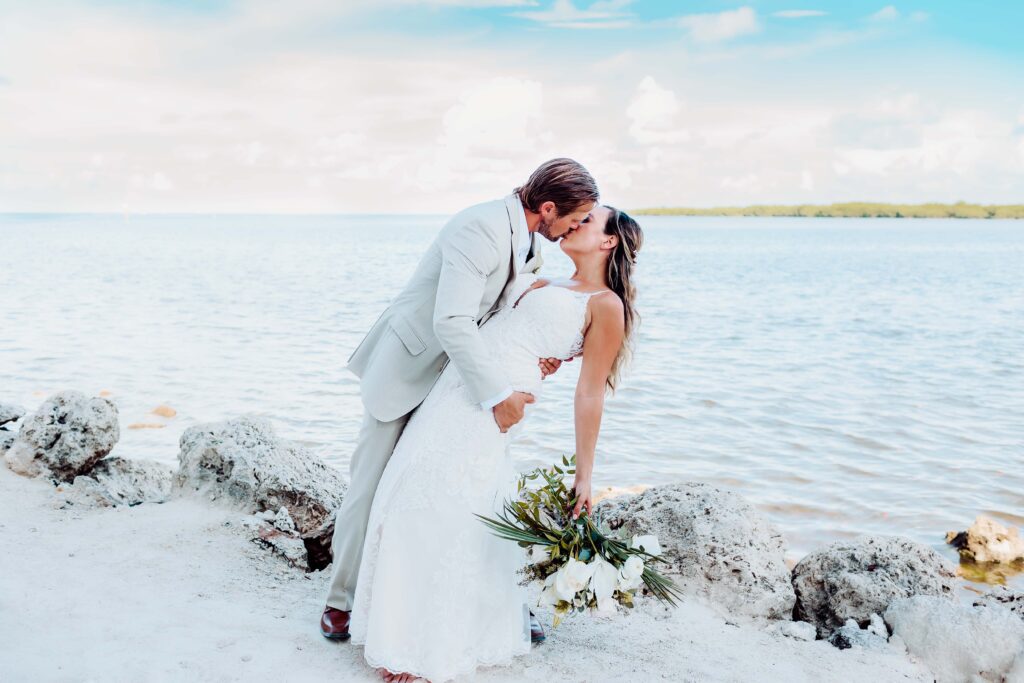 It was a beautiful, sunny October day when Jessica & Scott started getting ready for their wedding at the Southern Diversion estate. Southern Diversion is a stunning property located in the heart of Key Largo. This upscale, luxury retreat is perfect for your destination wedding as it sleeps 17, and the 1 acre property is large enough for up to 150 wedding guests! The private beach, tiki hut, private pool & deep water dockage option gives you & your guests tons of options! 
The couple chose our bamboo arbor with the white linen draping & beautiful white roses & lilies with cascading greenery as the arbor arrangement. White chairs lined both sides of the aisle with matching flower arrangements made for most beautiful scene for the ceremony. 
Jessica & Scott decided to rent a tent for their reception. Inside the tent were our 8 foot banquet tables covered with white cloth, and bamboo chairs. Bamboo chargers & champagne glasses lined each table as the guests enjoyed cocktail hour waiting for the dinner that was being prepared on site by our talented chefs. 
After family picture time, the first dances were had & the cutting of the cake was done! 
Since the wedding was at one of our private beach houses Jessica & Scott were able to keep the party going all night long! 
The couple chose our Alligator Reef All Inclusive Package. 
Take a look at all we have to offer & let our team of brilliant wedding package planners take care of your special day! Contact us today to start planning! 
Angel Faith Photography did an exceptional job capturing this special day!