Stacia Morgan Photography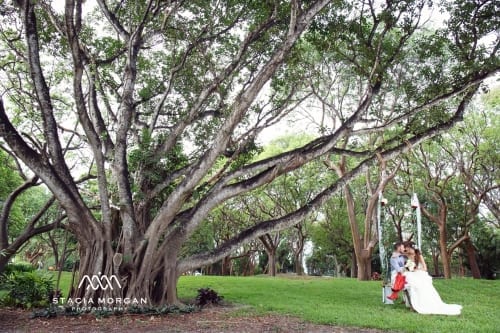 Categories: Photography, Videography, Drone Photo/Video, Photo Booth.

Services: Engagements, Elopements, Micro Weddings, One Hour packages to full day coverage

2nd & 3rd Photographer/Videographer available

Established:  1989

Based Out of: Based out of Key Largo

Travel Area: Fort Lauderdale to Key West

1-305-331-7429
Info@staciamorgan.com
Stacia Morgan Photography is a well known Florida keys wedding photographer. Her eye to capture these special moments are spot on. We recommend Stacia Morgan for your wedding day. 
I BELIEVE THAT ANY MAN WHO CAN DRIVE WHILE KISSING A GIRL IS SIMPLY NOT GIVING THE KISS THE ATTENTION IT DESERVES.  MY NAME IS STACIA AND I AM A HOPELESS ROMANTIC,  SMALL TOWN COUNTRY GIRL WITH A PASSION FOR ADVENTURE, PRETTY THINGS, AND CAMERA CLICKIN'. 
THE MOMENT I PICKED UP A CAMERA, I REALIZED IT WAS MY SUPER POWER.  IT WAS LOVE AT FIRST SIGHT.  NOW, I CREATE BREATHTAKING, EPIC WEDDING IMAGES PAINTED GRACEFULLY WITH GODS' LIGHT FOR THE STYLE OBSESSED BRIDE. I CATER TO BRIDES LONGING FOR A MODERN PHOTOGRAPHY STYLE WITH AN ARTISTIC, HIGH FASHION  APPROACH.  MY AWARD WINNING WORK HAS BEEN FEATURED IN NUMEROUS BRIDAL MAGAZINES, PUBLICATIONS, AND BOOKS AND TAKES ME AROUND THE GLOBE FROM THE FLORIDA KEYS TO LONDON, ENGLAND,  ALTHOUGH YOU CAN USUALLY FIND ME BAREFOOT, CAMERA IN HAND BY THE OCEAN. 
ONE DAY I'LL MOVE BACK TO THE COUNTRY, PLANT SOME FLOWERS DOWN BY THE STREAM, AND BUILD A BARN WEDDING VENUE.  BUT IN THE MEANTIME, I'LL KEEP CLICKING AWAY LOVIN' MY LIFE,  BECA– USE WITH EVERY CLICK THERE'S A STORY TO BE TOLD AND A MODERN DAY ROMANCE TO BE REVEALED.  WHAT WILL YOUR STORY BE? WHO WILL YOU TRUST TO TELL IT?