Florida Keys Bridal Team
zzx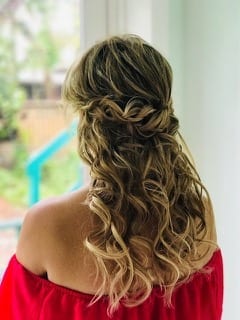 Florida Keys Bridal Team
Premium Vendor
Categories:   Hair & Make Up
Services:   Make Up, Airbrush, Hair, Highlighting, Eyebrows,
Established:  1989
Based Out of:  Tavernier
Travel Area:  Key Largo to Key West
(561) 289-2510
Linda@floridakeysbridalteam.com
​Mention FKWC and Linda will include the flower girl

Hair & Make-up Free  
Hair & Make-up Free  
"Florida Keys Bridal Team" believes your wedding should be stress-free, easy & lots of fun. We know it's your special day. My team can style from the most natural to the most avant-garde hair and makeup. We always stay current  with the latest wedding looks. We are very excited to begin your journey with us.
LASHES:
Individual Lashes: I am now offering individual lashes.
I will create the perfect sexy lash for your photos.
My brides really enjoy the freedom of false lashes.
I have had brides say"your lashes lasted all day even when I jumped into the pool.
Starting from $35.00 for both eyes.
MY HAIR & MAKEUP SERVICE INFORMATION FORM:
When you contact FKBT about our services.
I will email back my information form. My form will give you detailed information of my services and prices . I use this form so we don't have endless amounts of emails.
YOUR TRIAL IS 2 HOURS
Before your trial i will ask you to email pictures of your hair.
Then I can see if you need hair extensions. Most bridal hair style pictures are computer generated after the artist has finished.
Which means they cut and paste lots of fullness into pictures. And, also I need to see pictures of your bridal makeup.
When we meet at your bridal trial we will  discuss your hairstyle for about a half hour. And please come with hair clean.
I will set your hair and let it cool.
Next I will teach you how create your smokey or natural eyes.
We will try my Mineral Air airbrushing.
I will create stunning individual lashes.
we will discuss what shade of lipstick you want.
Most of my brides love to take pictures of my products.
And them i complete you hair. Never feel you can't have an opinion. YOU DO IT'S YOUR WEDDING!!!!!!!
TOUCH UP MAKEUP:
I recommend to buy "Chanel Universelle Compact " This will give you the most stunning flawless face.
If you have oily skin go to MAC and buy BLOT powder.
Bring your long wear lipstick for touch ups such as Chanel,Revlon long wear lipsticks.
PREPPING YOUR FACE:
My recommendation is to prep your face before your application of bridal makeup. Start first by cleansing you face with Lancome "Mousse Radiance" then apply eye cream.
You can use any brand .I love Lancome Renergie Eye Cream Lift".
AIRBRUSH MAKEUP $125.00 Mineral Air airbrushing system.
What is airbrush makeup? Airbrush makeup artistry is a patented makeup application technique that utilizes compressed air to spray on a fine mist of makeup. It is the preferred technique for digital photography, high definition TV, and bridal work. Airbrushing makeup provides a camera ready velvety texture that lays on the skin in an even, misted pattern, creating the most natural finish to the naked eye that's virtually invisible on the digital screen.
How does it feel?
Airbrush makeup is exceptionally lightweight. Most clients say they feel as if they aren't even wearing makeup.
What are the benefits of airbrush makeup?
Airbrush makeup provides flawless coverage by minimizing skin imperfections while giving skin a beautifully natural finished looking result. It is water resistant and will last for up to fourteen hours or more.
Is airbrush makeup right for everyone?
Airbrush makeup is suitable for people of all ages and every skin condition. The makeup is hypoallergenic and fragrance free. In fact, airbrush makeup is the only makeup that is suitable for the new "High Definition" standard in television.
FEATURES OF AIRBRUSH MAKEUP
Custom blended foundation colors
Creates a flawless complexion
Lasts all day & night
Silicone-based & hypoallergenic
Alcohol & mineral oil free,gluten free
Sweat, smear & tear resistant
Photographs beautifully
 EQUIPMENT:
I provide my own lights and chairs. So you and your party can sit back and relax.
I  pride myself with carrying a spotless makeup and hair kit.
I use the top of the line hair care products:
Redkin
Kenra styling spray,creams,hairspray.
My bobbie pins are invisible so you'll never see them.
MY WORK:
Linda has worked for Gloria Estefan as her personal hair and makeup artist.
I have created many looks for Gloria such as award winning music video, personal appearances and Grammys. I really understand curly hair.!!!!!!!
My work has been seen on Burn Notice,Graceland,The Glades,Sopranos,Bloodline,Ballers,Baywatch and many more films and commercials.
Her life style work has been seen on national billboard for Swim & Sport.
And I am creating the "look" for Pottery Barnkids and Tweens at The Morrings Village & Spa Islamorada Florida Keys.
And my work will be featured in the "Florida Keys Bridal Magazine" ,"Style Me Pretty 2017″
Linda has created for many years the TV commercial  and print for "Sandal Resorts"
And know you will be styled by my amazing team of stylist. We are a destination wedding service.
The best cosmetics such as:
Mineral Air Airbrushing .All natural product is paba free,mineral oil free, gluten free. Last all day.
Morphe eyeshadows
Bobbi Brown powders,concealers ,lipsticks,bronzer.
Chanel powders,long wear lipsticks are stunning.
Makeup Forever foundations
Tark Pallets
NYX  all is beautiful and very affordable.
All my products are waterproof.
I also use Bare mineral powders as a foundation. Mineral keeps your skin looking natural and soft.
I offer"Makeup For Ever" foundations if you prefer.I customize all Foundations for flawless application.
Email your pictures of your hair and makeup to Linda. I will create your look on a manikin and let you see your wedding hair style.
Please checkout my film,TV,photo shoot website http://www.lindaschonning.com