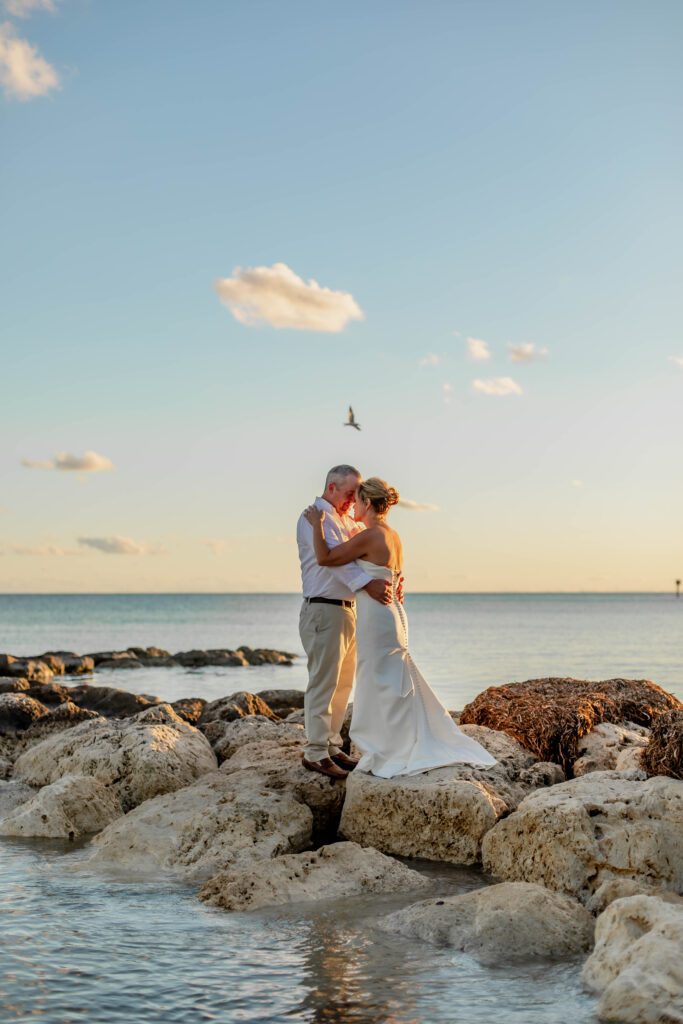 October 2nd, 2022 was the day Denise and Tim celebrated their stunning Smathers Beach Ceremony. It was a beautiful day, right before sunset when Denise made her way down the beach. Her absolutely beautiful white wedding dress and her bridal bouquet made of pale pink roses and greenery made her the most picture perfect bride. 
Tim couldn't take his eyes off of his future wife as she made her way to him. 
The couple chose our beautiful wooden arbor, draped with white linen, perfectly decorated with pale pink roses, white hydrangeas, monstera leaves with cascading greenery at the top and side of the arbor. 
Denise and Tim chose blue & white sand for the unity portion for their stunning Smathers Beach Ceremony.
The sun set perfectly making for stunning wedding photos taken by one of our incredibly talented in house photographers. 
Denise and Tim took advantage of the natural rocks & picture perfect palm trees as the backdrop to their photos that perfectly captured their day.  
If you would like a breathtaking ceremony like Denise and Tim- take a look at our Micro Wedding Packages here!
Smathers Beach does not require any permits or fees to have your wedding here & it is even more beautiful in person! 
Contact us today to start planning!