Florida Keys Farm - Florida Keys Beach Venue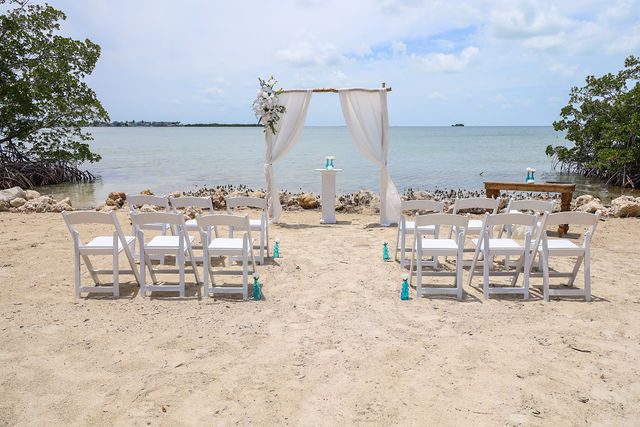 Florida Keys Farm - Florida Keys Beach Venue
Destination Wedding Location – Florida Keys, Key Largo
Maximum Guests: 100
Very Flexible Venue
Completely Private
Beautiful Views
An Affordable Completely Private Wedding Venue Location
The Florida Keys Farm is a perfect destination wedding venue location. Have your ceremony, cocktails, reception, and after party all in one memorable spot! Located in Key Largo, FL, this wedding venue sits on the Florida Bay with amazing colorful sunsets every night. After the Sunsets, enjoy your reception space either under the stars, or under their newly built tiki with pavers. This Rustic venue also has an actual farm with live animals which makes for that perfect barn, rustic, beach location all in one! 
Amazing Sunset Views
Completely Private Location
No Accommodations Required
Great for Small Groups and Micro Weddings
Covered Reception Space
The Florida Keys Farm was a Great Location to Host our Wedding. We couldn't have been happier and our wedding photos turned out awesome! Thank you again!
Everything about this location was magical. The farm life, the beach, the sunset, I could go on. I loved the Southern Style mixed with our Beach Dream.
What We Like About This Venue...
The Florida Keys Farm is a perfect destination wedding venue location. The View is amazing, the staff is very friendly and accommodating, and the Farm adds that Rustic and barn vibe.  The Nightly sunsets are also amazing for great wedding photo shots. If you are looking for a Rustic Barn Vibe wedding incorporated with beach and sunsets, this might be a dream venue for you! The Farm doesn't require any accommodations to be booked 
Amazing Sunset Views
Completely Private Location
No Accommodations Required
Great for Small Groups and Micro Weddings
Covered Reception Space
Great To Pair With Our All Inclusive Packages
Pair with An All Inclusive Package
Pair This Venue with Our Popular All Inclusive Wedding Packages
Other Wedding Venues you may also like:
Largo Resort
Florida Keys Private Resort
Islamorada Fish Company
Florida Keys Venue Location
Dream Bay Resort
Florida Keys Upscale Resort
Southern Diversion I
Florida Keys Beach House Rental
Ocean Oasis
Florida Keys Beach House Rental
Rock Reef Resort
Florida Keys Beach Resort