Caribbean Steel Drum Music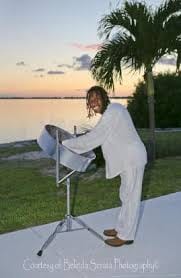 Categories:   

Live Music

Services:   Steel Drums. Guitar

Established:  

2004

Travel Area:  Key Largo to Key West

(305) 509-2532

bertie.ivan374@gmail.com
Caribbean Steel Drum Wedding Music
For many years, I have been living and playing music all over the US, Canada, Africa, and the Caribbean, and I have recently made Key West and the Florida Keys my permanent residence because of all the natural beauty that surrounds the lovely beaches, palm trees.
  In Regards to my career, I've done lots of weddings, birthday Parties, Major Events, Corporate Coventions, Theaters, apartment pool parties, street festivals and more. 

Some people often ask me, "What kind of music do you play? And I usually respond that Im like a rolling train, I do it all. I am a troubadour hitting you with Reggae, Rock, R&B, Blues, Soka, Oldies, and Soft Jazz. Caribbean Style, and roots calypso music of the islands. I play just about everything and anything. Please advised that no area is too far for me and there are no time limitations. I have great reviews on all my performances!