Key West Wedding Venues is the most popular search for Wedding Venues in the Florida Keys. Over 70% of Weddings take place in Key West. Key West is known as the Southernmost City and has their own international airport while Miami and Ft. Lauderdale can be up to 3-4 hours away. 
Located closer to Cuba than Miami, Key West is Floridas' most Southern point and has much to offer.  Key West is known for all sorts of fun. From fishing, diving, Sight seeing, dining, shopping, golfing, history,and many other great activities. People choose Key West to get married for its destination and Nostalgia of Old Time memories. There is an abundance of Night Life and can be a lot of fun for your guests traveling from out of town to enjoy your Key West Wedding! 
Choosing a Key West Wedding Venue is a wonderful option.  Whether you are looking for a Florida Keys Elopement or having your entire friends and family join you, there are many reasons to choose Key West for your Destination Wedding. Unlike the rest of the Florida Keys, Key West has a variety of Wedding Venue Options. From unique Harbors to Historic houses. We have combined and added them all to this one page.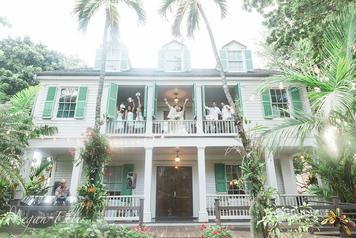 Audubon House & Tropical Garden
Audubon House and Tropical Gardens in the heart of Old Town Key West offers a breathtaking venue for weddings, corporate functions, and other private events, from intimate parties to grand galas. Our gardens have been voted "The Best Outdoor Location" for private events in Key West. We can accommodate ceremonies, cocktail parties, and dinners in our outdoor venue. The back deck of the historic home provides a beautiful backdrop for a ceremony for up to 100 guests.
Location:    Key West
Ceremony and Reception Only
Wedding Capacity:  100
​Price:       TBA
​Old Town Key West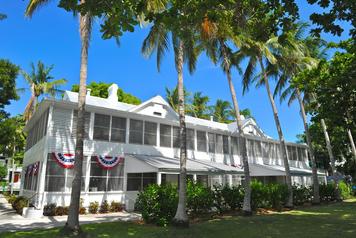 The Truman Little White House
The Harry S Truman Little White House in Key West, Florida was the winter White House for President Harry S Truman for 175 days during 11 visits. The house is located in the Truman Annex neighborhood of Old Town, Key West.
Location: Key West
Ceremony & Reception Only
Wedding Capacity:  100
  ​Price:  TBA
​Old Town Key West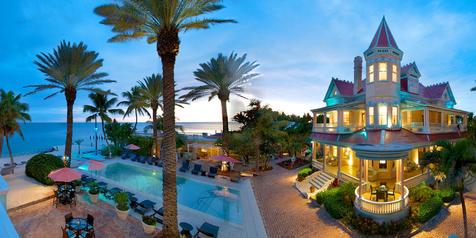 The Southernmost House
The Southernmost House is the perfect location for your special wedding in Key West, FL. Enjoy a beautiful rehearsal dinner or brunch prior to the big day, as well as a nice welcoming gift for the bridal couple. Say your vows beside the turquoise waters of the Atlantic Ocean, or choose our stunning salon that overflows with history and romance for this intimate occasion. The Southernmost House offers a variety of elegant Key West venues, either inside the mansion, on the veranda, or beside our sparkling zero-entry pool and poolside tiki bar
Location:   Key West
Sleeps:  
Wedding Capacity:  300
Price:  TBA
Duval Street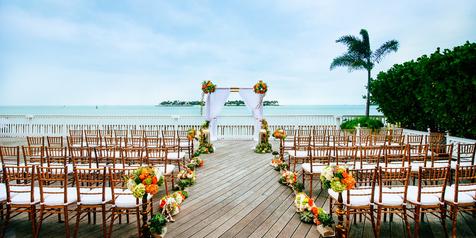 Ocean Key Resort & Spa
Ocean Key Resort & Spa offers one of the most elegant Key West Wedding Locations in Florida. Ocean Key Resort & Spa offers a variety of Key West wedding packages, rehearsal dinners and bridesmaid lunches. Whether an intimate ceremony or a formal affair, Ocean Key Resort & Spa offers nearly 5,400 square feet of wedding facilities along with several beautiful outdoor wedding locations. We'll work with you to find the perfect spot for your gathering. And our team of dedicated Key West catering services professionals will take care of all the details on your special day so you and family and friends can relax and enjoy all the fun that a wedding should be.
Location:   Key West
Sleeps:  
Wedding Capacity:  200
Price:  TBA
Duval Street/ Old Town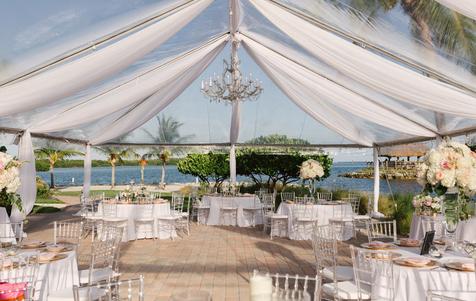 Key West Harbour
Key West Harbour is perfectly situated off the pristine shoreline of the Atlantic Ocean and the crystal clear waters of Boca Chica Inlet. Key West Habour's location also makes it the "Gateway to Cuba" as well as "America's Southernmost Marina". Key West Harbour offers countless ways to make your ceremony, reception, and honeymoon in the Keys an unforgettable experience. Our luxurious oceanfront beach is a private and romantic destination for you and your guests. Located on a unique venue, this tropical paradise is truly breathtaking.
Location:   Key West
Sleeps:  
Wedding Capacity:  300
Price:  TBA
Duval Street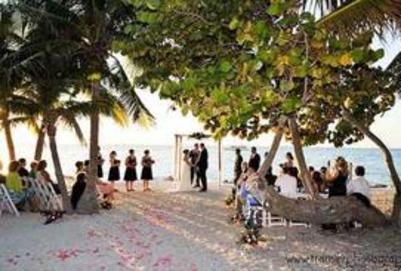 Fort Zachary Taylor Park
Your wedding day is one of the most important days of your life. On the beautiful beach of Fort Zachary Taylor State Park you'll create memories to cherish for a lifetime. Fort Zachary Taylor is a 54 acre park offering 5 reservable sites for a wedding by the water or on the beach. ​Parties of 7 or more are required to reserve a specific site and pay a $2.50 per person entrance fee. See map for site locations and descriptions ​Ceremonies in reserved locations are limited to 2 hours.
Location:   Key West
Southernmost Point
Wedding Capacity:  150
Price:  $15.00 -$6,000
Old Town​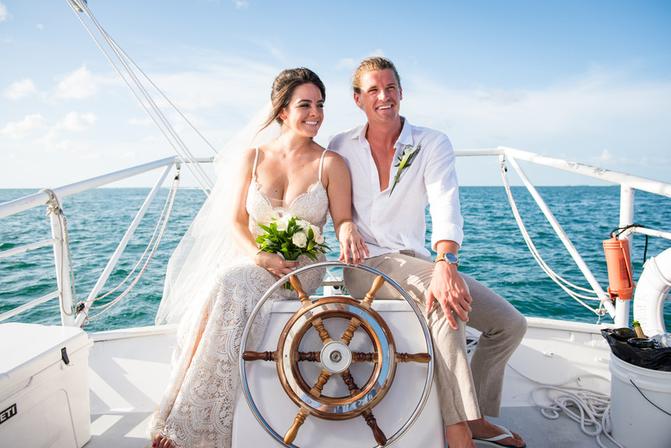 Danger Charters Key West
If you're looking for a Florida Keys Wedding Cruise on your very own Sailboat, Danger Charters is the company to take you out. Don't let the name fool you, Danger Charters is hands down, one of the best companies for your romantic and intimate Florida Keys Wedding Cruise based out of Key West, FL.
Location:   Key West
Southernmost Point
Wedding Capacity:  30
Price:  $500 – $3,799
Wedding Cruise​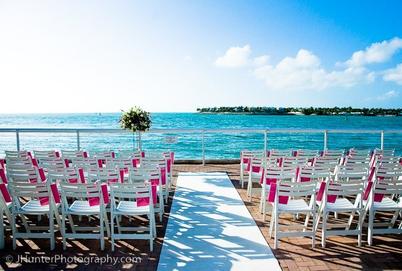 Margaritaville Resort & Marina
From the joyous "I-dos" to the final farewells, we'll plan an event you and your guests will cherish for a lifetime. Margaritaville Key West Resort & Marina is fortunate to be able to offer you a variety of locations for your wedding.
Location:   Key West
Sleeps:  
Wedding Capacity:  300
Price:  TBA
Old Town Key West
​KEY WEST WEDDING VENUES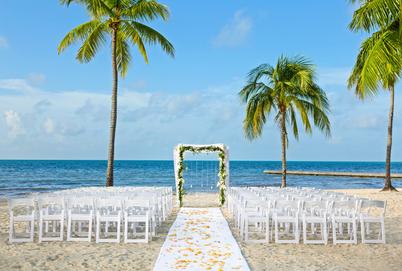 Southernmost Beach Resort
Whether it's an intimate beach ceremony, an elegant poolside cocktail reception, rehearsal dinner or a reception for 150 guests on the beach overlooking the Atlantic Ocean, you won't find a more romantic spot for your wedding than the Southernmost Beach Resort. With 261 guest rooms, available group blocks for your guests, complete catering, personal wedding coordinator, and a variety of settings for the wedding of your dreams — we have everything you need for your special day.
Location:   Key West
Sleeps:  
Wedding Capacity:  150
Price:  TBA
Old Town Key West​​
KEY WEST WEDDING VENUES