Unique Florida Keys Weddings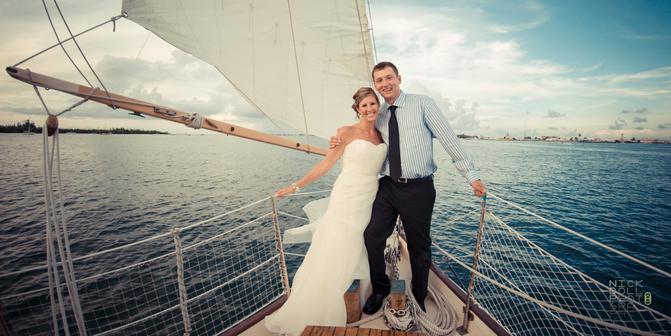 Are you looking for something quaint with a few family members and loved ones to witness you exchange vows, but still want a romantic wedding at Sunset?  Consider taking a private charter wedding cruise to exchange vows in the Atlantic Ocean or the beautiful Gulf of Mexico. 
Sailboats
Luxury yachts

Catamarans  

Fishing Charters

Dive boats

Pontoon boats 
​ *Schedule Live Entertainment  appetizers, and bar for an added touch to your Wedding Sailing Cruise*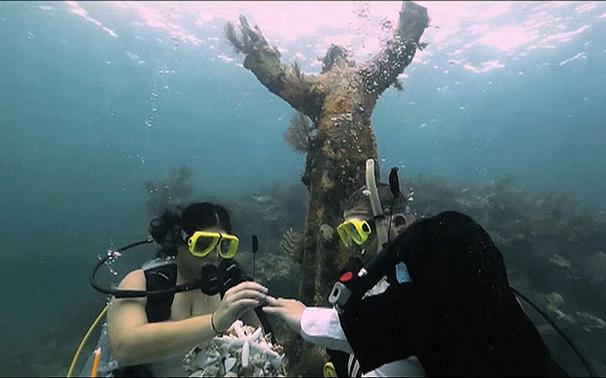 Are most "common" choice for Unique Weddings is an underwater wedding. The Florida Keys is known for many things, and Divers will nail it down to one. Diving. Our crystal clear waters and abundant reefs abound have many people partaking in an underwater wedding. 
With schools of tropical fish serving as your brides maids and a barracuda serving as your best man, who wouldn't want to get married on the ocean floor. No need for flowers and decor as the reefs will serve as a perfectly placed centerpiece for your romantic wedding. If guests are invited and don't want to dive, renting a glass bottom boat to witness the occasion is a great idea as well. 
While performing your underwater wedding there are 
water proof writing cards to check "Yes or No" as the 
officiant will be performing the services.  One of the most popular destinations is the 
Christ of the Abyss statue located near the dry rocks in the Jon Pennekamp state park.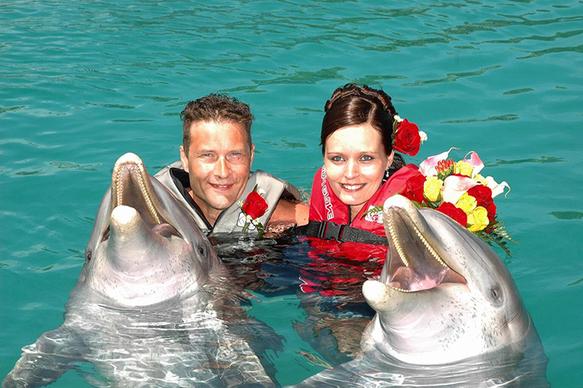 Aquatic Wedding Adventures
If we are looking for a unique elopement consider getting married with some beautiful Florida Keys Native Sea Creatures. From Dolphins, to Manta-Rays, feeling one with the ocean while becoming one in Union is a romantic way to tie the knot for your Florida Keys Wedding. 
Getting Married with Dolphins is definitely a wedding that one will never forget.  If getting wet seems a little much, other couples can get married while the Dolphins entertain or play a small role on your wedding day. 

Most Dolphin facilities are not only a wonderful due to dolphins, but are beautifully landscaped with saltwater pools  and your guests can attend a dolphin show afterwards while you are drying off and taking more pictures.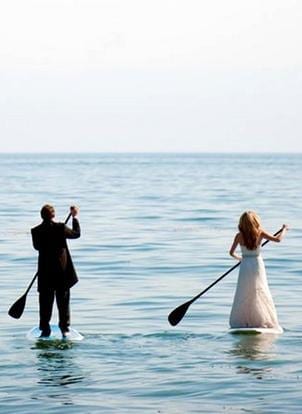 Paddle Boarding In Paradise
Paddleboard Wedding for 2
Includes: 
* Oceanfront Room based on availability 
* Lessons on Rehearsal ​
​* Notary on a Paddleboard
​* Champagne Toast
​* Bridal Bouquet & Groom Bouitonniere
​Paddleboard Wedding for 10
Same Package as above but include your favorite 10 people to Paddleboard with you
The Florida Keys in itself is a very unique place. If you have ever visited the Keys than you have most likely experienced it first hand and is probably why you may be considering a unique wedding to exchange your vows for a lifetime to remember. We are drenched in history and culture with a backdrop to boot. As we begin to share our ideas and past weddings we are fully open to any suggestions or new ideas that you may be thinking. If you have anything that you would like to discuss feel free to contact us. We would love to be apart of your special and unique wedding ideas.