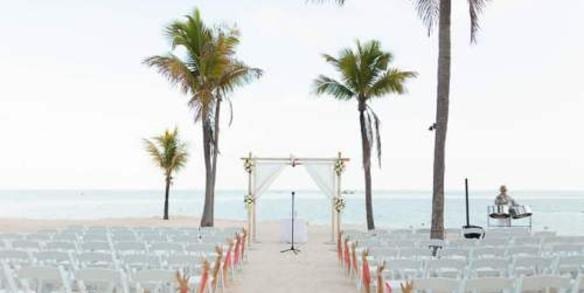 Post Card Inn - Islamorada, FL
Destination Wedding Location - Islamorada
Rum Runner's Beach :  (open air & oceanfront beach location)
Rumrunner's Beach is our most popular wedding ceremony venue…nestled among soaring palm trees, overlooking the Ocean, this white sandy beach provides a spectacular backdrop for your happy event.
Beach Pavilion : Capacity up to 120 People
This large thatched-roof beach pavilion provides the perfect location for an outdoor event with a tropical flair. The pavilion has tile floors, lush landscaping, palm trees and creative lighting opportunities to enrich your romantic ambience.
Celebration Island : (open air & oceanfront beach location) Capacity up to 75 People
Celebration Island is the only private wedding island in the Upper Keys designed for wedding ceremonies and receptions. An authentic wooden footbridge leads to an intimate island where a thatched roofed alter awaits. Celebration Island stands at the ocean's edge overlooking beautiful crystal blue waters next to our white sandy beach. This charming venue features 800 sq. ft. of space and is ideal for ceremonies, receptions and outdoor dining for up to 70 of your closest family and friends.
Bimini Row : (open air & oceanfront beach location) Capacity up to 120 People
Located at the Southern most point of the resort near the marina with a sunset view… envision yourself walking down an aisle that stretches alongside the warm, blue ocean waters of the Atlantic. This is a wonderful location for an ocean-side, semi-private ceremonyand reception.
The Horizon Room : Capacity up to 120
The Horizon Room, located on the sixth floor of the main building of our Florida Keys resort, offers the most breathtaking panoramic views of both the Atlantic Ocean and Florida Bay from the highest point in Islamorada. From the wraparound terraces, you can breathe in the ocean air and savor a magnificent sunrise or sunset with your newly wedded. Inside the banquet room are floor-to-ceiling windows that encompass the room and provide the perfect environment for your special day. Including the adjoining Terraces, this room offers 3,690 sq. ft of combined space. The interior space is 1,680 square feet and comfortably accommodates 100 people for ceremonies and receptions.
The Quarterdeck : The Quarterdeck is located on the second floor of the main building and also offers floor-to-ceiling windows overlooking the crystalline Atlantic Ocean. This 1,680 sq. ft. space can accommodate 80 guests for dinner and up to 75 guests for ceremonies and receptions.
Wedding Site Fee's 
​Celebration Beach & Tiki…………………………………………………..$7,000.00 
Rum Runners Beach & Pavilion…………………………………………..$6,000.00 
Celebration Island & Bimini Row…………………………………………..$4,000.00 
– Wedding Site Fee's Include 
​White folding chairs for outdoor events 
Tables with white full-length white table linens
China, tableware and glassware (acrylic is used outdoors) 
House center pieces
​Food and Beverage Minimums will apply for all events. These are determined based on time of year, event location and day of the week. 22% service charge and 7.5% sales tax will be assessed on all of the above fees. 
Dinner Menus Range from $125.00 Per Person – $205.00 Per Person – 
​
* Miscellaneous Fees Vendor Meals…………………….………$40.00 per vendor 
* Wine Service at Dinner……………………………..…$4.00 per guest 
* Gift Bag Distribution to Guests at Front Desk ….…..$5.00 per bag 
For More Information- Contact This Resort Directly Below