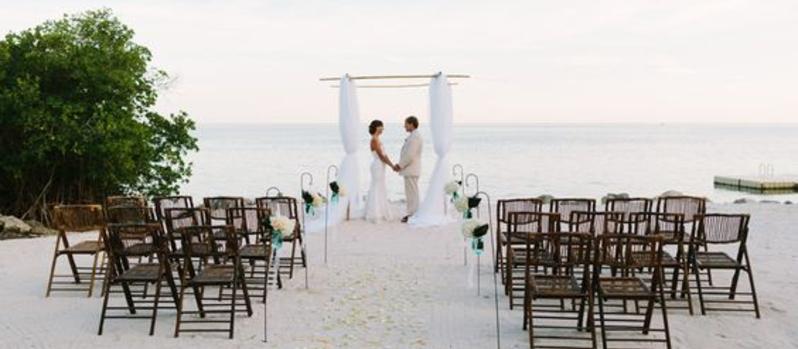 Pelican Cove Resort - Islamorada, FL
Destination Wedding Location - Islamorada
North Beach: Say your "I do's" with your toes in the sand and dance the night away under the stars next to the beautiful blue Florida Keys ocean. Nestled between the palms and the buttonwoods, this white sandy beach venue is a perfect ceremony location for wedding parties up to 75. 
South Beach: This larger beach venue is located at the south side of the property. As the spectacular Islamorada sun sets on the bay side, our skies and waters turn magnificent shades of orange, yellow, pink and purple – a breathtaking backdrop for your wedding celebration with beloved friends and family. This area can accommodate up to 100. 
Pelican Point: At the very southern tip of our South Beach is Pelican Point. This location suits smaller intimate parties perfectly. If a beach ceremony surrounded by your closest friends and family is what you desire, Pelican Point will make this wedding dream come true.                                                        This location suits smaller parties up to 30. 
The Nest: The Nest is available to host small meetings or cocktail receptions. It is newly remodeled with a flat screen TV, Wifi and seating conference style for 12. Sliding glass doors open to a small beachside patio, perfect for a breathtaking view and a dose of salt air to reinvigorate creative minds during a business meeting.
Event Lawn: Lush green landscaping surrounds this area creating a private oasis for your special day. Just steps away from the beach, your guests will remember your tropical wedding as one of their favorites.                                                                                                                                                                               This impressive newly renovated 7,000 square foot Event Lawn can host up to 200.
Seaside Serenade  (Sample Package) 
• Beach site fee 
• Four hour premium bar for up to 50 guests (Includes 1 bartender) 
• Champagne toast 
• Trash removal 
• Discounted rate for guest rooms $5,500.00, inclusive of all taxes, fees, and gratuities 
All Alcoholic beverages must be provided by the resort for $51.00 per person for up to four hours and $8.00 per person each additional hour thereafter.
An additional hour for the site fee will be $125. A bartender, provided by Pelican Cove, is required with all beverage service requests. The bartender fee is $125 (plus tax and service charge). We require one bartender per 50 guests. 
** All prices subject to a 7.5% Florida sales tax and a 22% service charge.
A Day of Coordinator is required for each event 
For More Information- Contact this venue Directly Below